Community Driven: Cargo Services sponsors
12th Books for Youth season
This statewide Indiana program provides 25 age-appropriate books in backpacks to Hoosier foster youth, who have little to call their own. Books for Youth is operated in conjunction with the Indiana Department of Child Services and the NFL Indianapolis Colts.
In 2018, Chris Ballard and his entire family have joined our Books for Youth team to support Hoosier foster youth. An adoptive family, the Ballards are
passionate about their support for foster youth. Watch the video here to learn more.
Books for Youth game day is Sunday, Nov. 11.
Fans, bring books to donate at Lucas Oil Stadium entry gates.
Thank you to all of our customers who have hosted Books for Youth events through the years. We hope you've enjoyed the experience as much as the Cargo Services team has. We say our ROI is the smiles on the faces of the children who receive the backpacks.
At any given time there are more than 16,000 children in the Indiana foster system. "Many of these kids have little to call their own. Study after study proves reading is a key to lifelong success. If we can give these kids something of their own that also provides an educational opportunity, we're providing an experience to help move foster children toward a successful adulthood. We're inviting Colts fans to join us, and make a donation to support of Hoosier foster children," says Cargo Services CFO Steve Fugate.
Support the program during the 2018 Colts season through the Buy One Give One program. For each backpack purchased one is donated to the program and distributed to an Indiana foster child. Visit the Colts website for details and to make purchases. Books can be donated in Indianapolis at any Marion County Public Library.
Project Open House partnership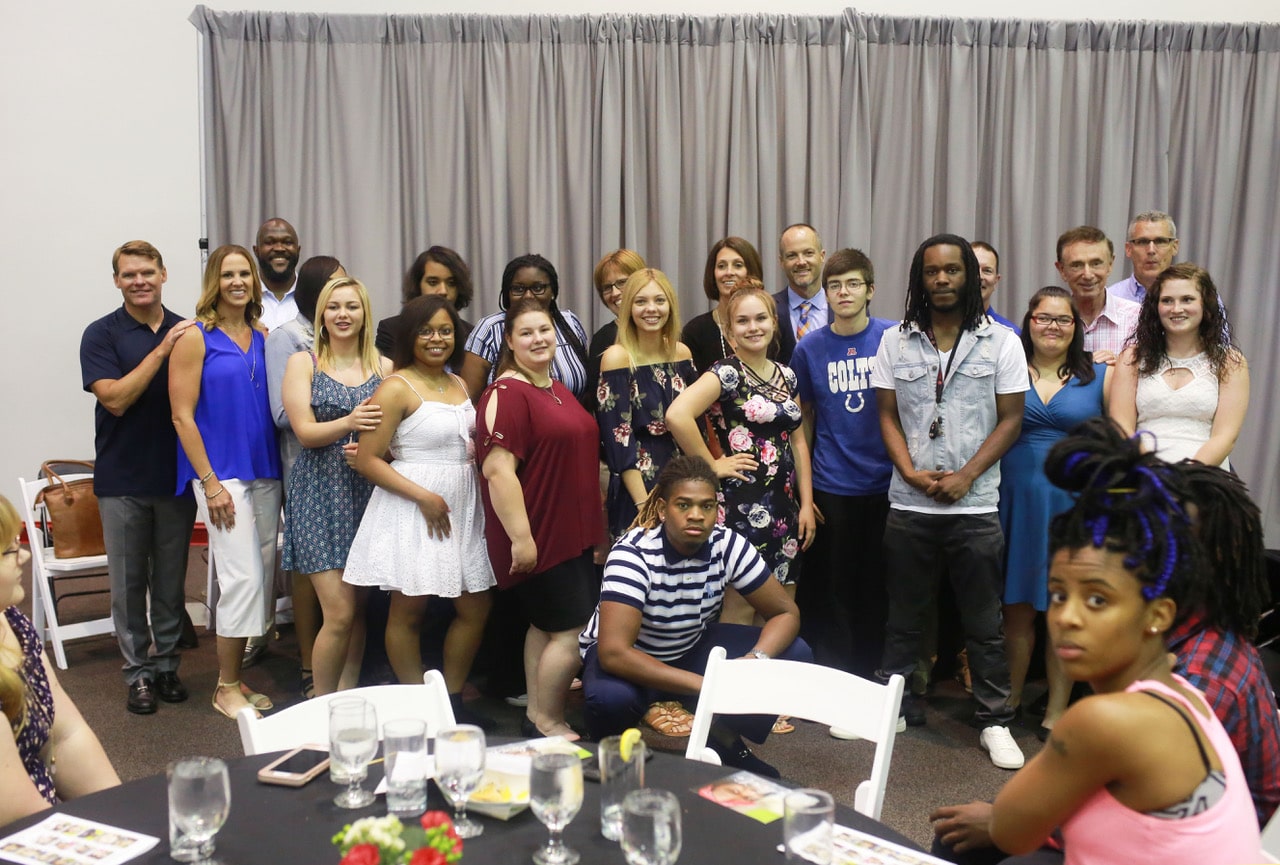 In conjunction with Books for Youth, Cargo Services team sponsored Project Open House in partnership with Indiana DCS and the NFL Colts for the fourth year. The event was at the Lucas Estate and honored 14 graduating seniors who are foster youth.
Each of the 14 attendees (pictured right) personalized their graduation experience by inviting up to 25 guests including family, friends, neighbors, teachers and coaches. They also planned their own menus along with receiving graduation cakes, cards and gifts. The majority of the 14 graduates will attend college or university to continue their education.
"We wanted to make sure every single one of these graduates feels special," said Cargo Services Chief Financial Officer Steve Fugate. "I've had the privilege of getting to know all of them, and they're an amazing group of young people who are going to create a lasting impact on everyone they meet."